ASICS has always produced high technology and high-quality shoes that best meet the needs of sports.
The company has developed a number of patented technologies, such as Asics-GEL super shock-absorbing rubber, AHAR super wear-resistant rubber, DUOSOLE super wear-resistant anti-slip large midsole, SPEVA super elastic midsole, DUOMAX double-density anti-tilt device, TRUSSTIC midsole elastic anti-vibration film.
A number of technologies are combined to make it possible for the wearer to prevent more injuries while enjoying more fun in sports. It is of no exception for Asics to release another pair of quality shoes which is the Asics Gel Upcourt.
The Upcourt series have been best-seller shoes all over the world. Upcourt shoes are specially designed to target the new generation of consumers. With the SpEVA midsole, it is optimized for players to wear the shoes and play on different floor material.
Features of the Shoes
The features of the shoes are:
1. Lightweight
SOLYTE is used as a midsole material with a low density compared to the previous materials used. The SOLYTE material has been greatly reduced the weight of the shoe.
2. Cushioning
Excellent cushioning performance can better protect the player's ankle and knee joints from trauma.
3. Stability
The heel of the outsole is all rolled up, and the forefoot part is covered with a whole piece of artificial material to restrain the left and right center of gravity from being unstable. (I ever saw once with my eye in an Expo where Asics put the shoes in the air of about 2 meters high. Then they let the shoe free fall to hit the raw eggs on the floor. It amazed all the audiences where the shoe falls on the eggs without damaging them. I think the cushioning resistance of this shoe is really good)
4. Foot matching
The shoe is designed to deepen the groove inside the outer thumb area to improve the foot matching.
5. Durability
The shoe is not only lightweight, but it also uses the high wear resistance AHAR as the outsole material.
Brief Review of Asics Gel Upcourt
I have been trying out a pair of Asics Gel Upcourt Indoor Court Shoe and I got a brief review for you today. This is the lowest cost Asics shoes and I have been wearing them for a couple of months now and got some feedback for you on how these shoes look like.
First of all, the shoe comes in a lot of different designs. But the Asics Gel Upcourt is preferable for its pretty simple combination of red, black and white look. It is pretty classic and has a very simple design.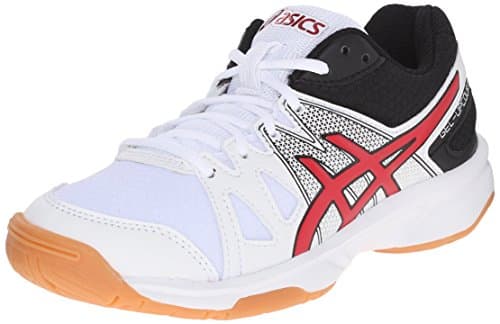 First Impression on Asics Gel Upcourt Indoor Court Shoe
When I put this shoe on my feet for the first time, my first impression on it was mediocre. But after a couple of months of wearing it, I start to feel better about the shoe.
The first thing that I noticed when I first put them on was the sole of the shoes is kind of fixed incorrectly where it wasn't laid down in the proper spot inside the shoe. It is just glued down like cock-eye. It is kind of weird but I finally realized it was wrong. What I did was peel it off and then stick it back down in the proper alignment. It's been totally fine ever since so it's just a little bit of weird start.
I felt in the beginning that the overall of the shoe is too thin which make me initially think the sole was not enough to provide stability of my feet. I felt like I am kind of likely to flop over the edge with my ankle.
Fortunately, that never happens as I played with it for many matches now and over time that feeling been gone away.
Now they just feel normal. The grip has been good with the regular gum rubber sole on it. The initial feeling of not having enough surface area was bothersome but over time it gets to normal.
The Construction of The Shoe
In terms of construction, they held together pretty well and you can barely find a gap between the shoe. There is no real wear and tear on the other shoe. With the use of a lot of white material, it may get dirty easier. Thus, you might want to put extra care to keep it clean.
There are a couple of threads that come loose inside where you may find a bit annoying if you are some kind of a perfectionist. The reason why this shoe is not expensive is that the fabric cutting of the shoe is not so sharp so its outlook may not look too pretty. But it hasn't really impacted the performance at all.
The tongue is quite thin. It's mostly a stem aesthetic thing as far as I can tell. There is one area where they've saved a little bit on the padding. I have felt comfortable with my knee after playing for a while and I haven't noticed any sort of aches or pains in my legs. So they've been good from that perspective.
Final Say
Overall, I think this shoe looks cool with affordable price. They can be a pair of good shoes if you just starting out playing table tennis or you are looking for a cheap pair of table tennis shoes that work well for you. Of course, they are not the finest quality where you can't have a too high expectation at that low price point but you certainly can wear them very well in your feet.
Your first impression when wearing this shoe might be not up to what you expect but if you wear it like a couple of months, you will start to like it more. So it is a good shoe option if you are looking for a good deal and you can just get to the court and play table tennis with this pair of Asics Gel Upcourt Indoor Court Shoes.
Related post:
Why the Right Shoes Are Important When Playing Table Tennis