Ping pong bars are adding to the fun obtained from playing ping pong. If you are tired of playing indoors, or you want to play in a different environment, you can consider entering a ping pong bar. Formerly, pool tables were the ones dominating bars and clubs.
However, with the current demand for table tennis, bars are revolutionalizing the game by equipping ping pong tables and equipment. Next time you want to visit a bar, consider a ping pong bar!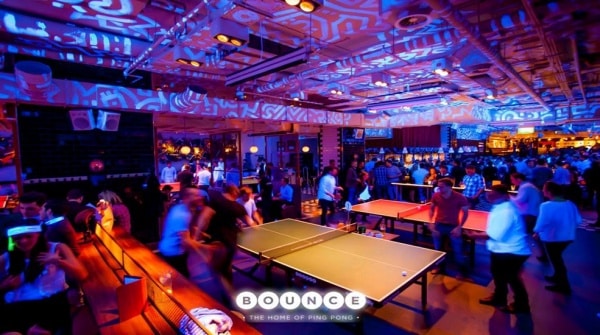 photo source: pingpong bounce
What is a Ping Pong Bar?
If you fancy playing ping pong with a cocktail in hand and having a good time with friends, then ping pong bar is your thing. A ping pong bar is simply a table tennis table equipped in a normal bar or club.
You can go there to have your cool beer, hang out with friends and participate in a friendly table tennis match while doing so. If table tennis is not your thing, worry not, you can watch interesting matches between players as you sip your drink or take eat delicious food.
Can you visit a ping pong bar if you are not a pro?
Yes. A ping pong bar is a place for ping pong players who like playing in informal and social places like bars and clubs. You can enter and play for pleasure. If you a pro, you can register a team and take your competition to another level.
What if I don't take alcohol/cocktail?
If you want to visit a ping pong bar and you don't consume alcohol, you can still enjoy a delicious meal while watching colleagues play. It is not mandatory to order alcohol. You can order your favorite non-alcoholic drink.
Say goodbye to boredom and play in a ping pong bar
Below is a list of ping pong bars where you can play table tennis for fun or have a match with friends
London ping pong bars include Bounce, The bat and ball, The miller, Ping, Sink-Paul street, Nordic bar and Smash Wimbledon among others
SpiN (New York & Toronto )
Gossima (Paris)
Dr. pong (Berlin)
OT301 (Amsterdam)
DuPong (Copenhagen)
Kosmonaut (Manchester)
DuPong (Copenhagen)
Mladost Table Tennis Bar (Belgrade)
Why play in a ping pong bar?
Most ping pong bars have high-tech table tennis equipment. You will play using advanced equipment that challenges your expertise. In addition, playing in such a place helps you to meet sports celebrities and talented individuals. You will get challenged and put more effort into your game.
Most importantly, a ping pong bar makes you play while still having a good time with friends. You do not have to postpone or forfeit a night out with colleagues and friends in order to play your game. You can still book a table in a ping pong bar and have fun while playing.
It is not for those who take a beer or other alcoholic drinks only. You can order coffee, food or other non-alcoholic drinks. Else, you can order for a bat and proceed to the playing table.
Recommendation
If you are tired of playing indoors or desire a different environment, then try playing in a ping pong bar. You will have a different playing experience while having relaxing moments.