Looking to play the ultimate beer pong game? This supply list will help you on your way. Once you have all your supplies, we will go over how to set everything up to run smoothly.
Table
The first item you will need is your table. Now there are a lot of ways to go about it. You can make or build your own beer pong table but this can get very pricey and time-consuming as well. You don't want to ruin any of your household tables; so, don't use those.
A regulation table needs to be eight feet long and around twenty-seven and half inches high. This size of a table makes it a little difficult to store when you not using it. My recommendation would be to purchase a professionally made table.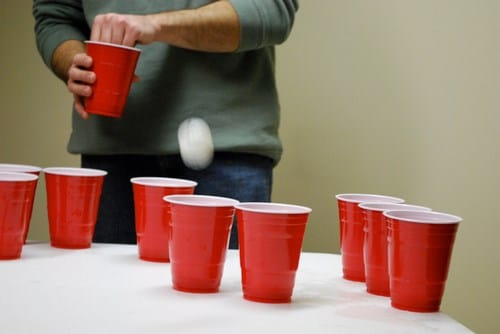 They are not that expensive usually under $130.00. These tables are portable and break down to about the size of a briefcase with a carrying handle for easy storage. The table is made especially for playing beer pong with clear markings for the cup layout and placement.
These tables are also water-resistant and are very durable and sturdy and have cool graphics and usually come with a holder for the balls as well.
Ball Star Rating
Now you will need some balls for playing. You can purchase balls that say that they are made "especially for beer pong" on them but, don't be fooled, they are the same as any ping pong ball. There are generally two sizes of balls 38 mm. and 40 mm.
These are your standard size ping pong balls; although the 38mm balls are becoming rarer because since 2000, they are no longer used in ping pong competitions.
Not all balls are created equal though. Ping pong (or table tennis) balls are marked with a 3-star rating. The rating is based on roundness, size, seam, and weight. The 3 star balls are of the highest quality; while 0 star balls of the lowest. These ratings benefit beer pong also.
Balls with a 1 to 3-star rating have less of a chance to fill with liquid because of a pinhole. Balls without the seam throw and bounce better a well. Three-star balls are more expensive; don't break the bank if you don't have to. A 1 or 2-star ball will play just as well. Make sure to buy more than one ball, as they are very easily lost or crushed.
Cups
Cups are usually 16 ounces in size and made of plastic. Most games are played with six or ten cups on each side of the table plus two cups for rinsing also called dip cups. So you would at least start off with twenty-four cups. This way you have a couple of extra ones on hand.
The cups can be purchased pretty much at any market or big box store. If you are a frequent or serious gamer, reusable plastic cups are available. These cups have different sayings, logos, and designs on them and are a little more expensive. The design or the phrase on the cup is totally up to you.
Beer or Water
Last but not least on the list the beer (or water). Depending on the situation and the type of gameplay people use water to save money. This is also a good idea if it's going to be a family game and players are under the age of twenty-one.
The game does not have to be played with only beer. But if you plan on having a party with many players and teams involved I would just get a quarter barrel of beer. The type of beer used is all personal preference. Once all of our supplies are in check it is time to set up and play some beer pong.
You will need an area large enough for the table and some clearance space for movement. If at all possible stay off carpeted areas; no matter how hard you try to stay clean, the floor will get wet.
Now that the table is ready to go and presuming you have a professional beer pong table, there will be two triangles on each of the beer pong tables this is where you place the cups. Six or ten cups are to be placed in each triangle. Then fill the cups about 1/3 with beer or water.
On the outside of the triangle will be a marked area for the dip cup on each side of the table. This cup gets filled to about 4/5ths of the way with warm water. You are finally ready to play some professional beer pong. Now you have a complete supply list and table set up the reference.
This game can be for anyone who wants to play. Just remember you can always use water if you are a minor or simply not an alcohol drinker. So let's have some fun and make sure to play responsibly.
Before you choose the wrong beer pong table, take a good look at Niel "Beer Pong" Stone's World Series of Beer Pong equipment, and for other great products check out everything else.
Play Beirut With Beer Pong Balls
Beirut, more commonly known as beer pong is a very popular drinking game commonly played during summer parties alongside friends. Unlike many games though, beer pong requires only three main paraphernalia.
One is the beer pong table, then the cups filled with either water or beer, a huge amount of beer for the drinking part, and of course the beer pong ball. Beer pong balls are very easy to find and very cheap as well. You can run a search through the various online retailers and get a set or two at very low prices.
There are balls that are mainly created for the use of beer pong. These beer pong balls can be a bit more expensive compared to the commonly used plastic table tennis balls. Plastic one works just as well though and are very much cheaper. If you check online, there are many varieties of beer pong balls in stock with online retailers who usually sell them by the dozen as a set.
Many people often buy dozens of these beer pong balls to ensure they have enough backup stocks in case the ones they are using get dented. But to save money, there is really no need to throw away dented balls.
Three Ways To Fix Dented Balls
Actually, dented beer pong balls can be easily fixed in any of the three easy methods.
First, you can do the water method which is by far the most commonly used among table tennis enthusiasts. What you need to do is boil a pot of water then place the dented ball on top of the water until the dent is gone. Once back in its original shape, let the ball cool and dry it off then it's ready to be used again.
Another method is by using a hairdryer or blower directly on the ball until it resumes its original form.
Lastly, you can also use the flame method which is recommended for people who are handy with flames. The trick is to continuously run the ball on the flame until the dented part pops back to its original form. Salvaging dented beer pong balls by with any of the three methods stated above is a good way to save money instead of buying a new set.
Add On Personalization
If you want to personalize your beer pong balls, worry not as many retailers also offer specialty color and custom printed designs to suit your fancy. These balls also work well as a great giveaway gift after the party ends. Customized beer pong balls are mostly given to the winning teams as a souvenir.
Portable Beer Pong Tables
A great place to get information and purchase beer pong tables such as construction, types, sizes, and much more. Beer Pong has become a very popular sport. You might ask sport, yes that's right a sport with $50,000 on the line for the winners.
The beer pong championships are held every year in Vegas around January. So if your thinking about competing you better start practicing now because these players don't mess around.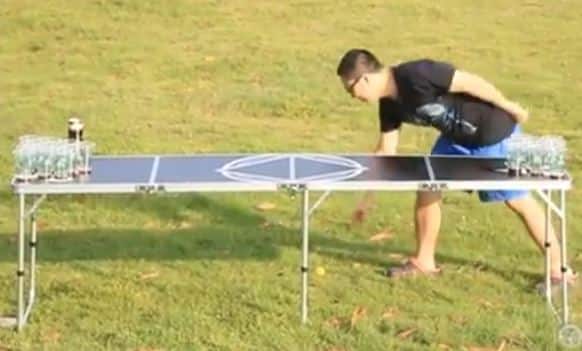 Portable Beer Pong Table Construction
Finding a portable beer pong table is easy. Finding a portable beer pong table with the right construction is a little more involved. Sturdiness, folding and storage methods and the right accessories should have the right combination to take your ponging to the next level.
When making a decision on what portable beer pong table is of quality, the material used should be lightweight high-grade aluminum (This includes the frame and legs). This is because aluminum does not rust but at the same time is strong enough to support the table and its contents.
A portable beer pong table that is eight feet or larger needs to have at least six legs making sure the center of the table has enough support.
The nice thing about a portable beer pong table is the versatility in being able to fold it up into a nice storable size. The table and legs fold into a suitcase size rectangle with a built-in handle for carrying; thus making it easier to take it where ever you want to go. A portable beer pong table should always lock into position whether it is broken down or in the open position.
Smooth and Waterproof
The playing surface, which is the top of the table, needs to be smooth as well as water-resistant. This makes it easy to clean and provides for a nice bounce shot. Most of the portable beer pong tables come with an array of designs and colors to choose from.
Having a nice heavy gauge vinyl covering with non-slip triangles for your six or ten cup placement is a nice feature to look for in a portable beer pong table.
Also, a ball holder and a bottle opener are very good accessories to have. These features do not come standard on all tables; So, make sure to read up on all the information provided for the table that you are interested in so you get what you want.
The official length of a beer pong table is eight feet long not mean that's your only option. Portable beer pong tables range from six to eight feet.
If you have a competitive personality then an eight-foot table would probably be right for you. If you are low on space, this does not mean that you can't have some fun with one of the shorter tables.
This article should give you a basis and understanding of what to look for when overwhelmed with the vast amount of portable beer pong tables on the market. If you love the game, there is definitely a table for you. Please play responsibly.
Inflatable Floating Beer Pong Tables
Floating beer pong tables, also known as the inflatable beer pong table, allow you to have fun in the water with water. That pun basically describes the awesome fun you can have to play the game in the indoor, outdoor, or public swimming pool. Most public places don't allow alcoholic beverages, but you can surely play in your backyard error-free. Make sure to have a supervisor though because getting so drunk in the water can cause a life-threatening accident if you accidentally hit your head on the pool rim or pass out.
GoPong Floating Beer Pong Table
This is a popular GoPong floating beer pong table that designed with 6 feet in length and 3 feets width. It has a full 10 cup on each side of the pool pong table.
The sleek design with the bright neon green color can catch people's eyes quickly. You may inflate it very fast by getting a pump or simply use your mouth to blow air into it. You can start playing the game in a couple of minutes.
Similar to Inflatable Rafts
The floating beer pong tables are usually akin to inflatable rafts that you set up in the water. They're like those floating lounge beds that people lounge in when they're outside in their swimming pool just soaking up the rays. However, the main difference is that there are an array of cup holders arranged in a triangle shape to facilitate the game of beer pong.
You play with plastic cups, ideally red plastic cups to offset the usual blue of the inflatable raft, and then you go at it like you would with any normal game. They're really cheap, about $40, and you can have fun with the game going in your backyard in no time.
Read also: Best floating table tennis table
Common Characteristics
The usual inflatable beer pong table includes 4 strands of rope, 2 rip patches, 4 grommets to anchor the table down, 1 instruction booklet, and a limited warranty. Hopefully, you won't be too drunk to read the instruction booklet. The average table has a really good 22-cup array with a single cup holder for a personal drink to the right of each triangle. It should quickly inflate and deflate for easy gameplay or quick stowaway storage. It should be composed of durable vinyl and hold up to 20 ox cups.
Most floating beer pong tables are approximately 6'x3'x4", and they're very good additions and adjuncts to a swimming pool overrun with children's toys, frivolous games, and squirt guns. If you're an adult, and you have a swimming pool in your backyard, it is time to step up to the plate and get serious about your gameplay.
Most people were deemed to be ineligible to enjoy playing the game outside of a party, bar, or backyard, but with the advent of such a table, everyone can join in the fun. The floating nature of this type of table will enable people all around the pool to play because it aimlessly floats on and on. The competition is not as fierce.
Wonderful Summer Games
It is summer once again and one of the best ways to enjoy the summer is by throwing a party. Of course, what would a party be without a swimming pool and drinks, right?
Well, one drinking game that has become excessively popular for youngsters these days is beer pong. So why not combine swimming with this game? Yes, a floating beer pong table now exists specifically designed for this purpose.
Beer pong, otherwise known as Beirut is a great drinking game with very simple rules, that is – two teams take turns to shoot a ping pong ball on the opponent's set of glasses either filled with water or beer on each side of the table.
If the ping pong ball lands inside the opponent's cup, they are tasked to drink a glass of beer while the other team tries to land the ball on your team's cups and whichever team knocks out all of their opponent's cup wins.
What's The Difference
Floating beer pong is a different spin for the game. This requires a floating table and is usually played in the swimming pool. The mechanics are the same as an ordinary beer pong game however the game gets a bit trickier as the table is floating on the swimming pool.
A floating table can be made up of a lightweight piece of wood with floaters underneath to keep it from sinking however the most popular type of inflatable beer pong table are the inflatable ones.
The difference in design compared to regular beer pong tables is that a floating beer pong table has ridges placed on the table to hold the beer cups in place as the table floats. There are numerous online retailers who offer an affordable floating beer pong table for anyone interested to purchase it.
Do It Yourself
Alternatively, you can check online for those handy "do it yourself" instructions on how to make a floating beer pong table by yourself. The materials are cheap so if you are in a tight budget, creating your own floating table is a very wise choice. You really do not need to spend too much to buy this kind of table to enjoy this game.
A floating beer pong table can certainly put an extra kick on your summer pool party. So the next time you throw a summer party, consider this game as one of the highlights and wonder at the height of fun such a table can bring.
If you are interested in buying one, other than you can get these tables for sale on Amazon or Spencers, you can also get them from retail stores like Walmart, Kmart, or Target.
Read also: History of Beer Pong and What is the Game in Today