Balsa is a remarkably light wood that allows the construction of exceptionally light tt-blades and construction of combination TT-Blades where backhand and forehand sides have different play characteristics.
Balsa is unique in its control for the short game and, in quick matches, with quick hits. These woods have larger speed reserves due to the so-called catapult effect. The strength of this catapult effect depends on the used layer strength.
Furthermore, the catapult effect is influenced by the gluing and the arrangement of the fibers in individual layers of the blade. Due to the greater layer strength, this catapult effect is more pronounced with Off Table Tennis Blades than with identically constructed Def TT-Blades.
Spin Machine ALL
The development of this tt-blade is for all-round players and attackers looking for a very light blade. Spin Machine All is a Balsa tt-blade with 5 layers and weighs only 55g (65g for the bigger version). It gives the player a great deal of control while generating a lot of potential speed for attacking.
The table-tennis-blade has 3 layers of Balsa at the core. Their special arrangement gives this tt-blade its extraordinary level of control. There is a layer of koto wood on the backhand side, which suits both traditional rubbers and long pimples. The forehand layer is made of an acorn, which supports all playing styles – this is a true Allround blade.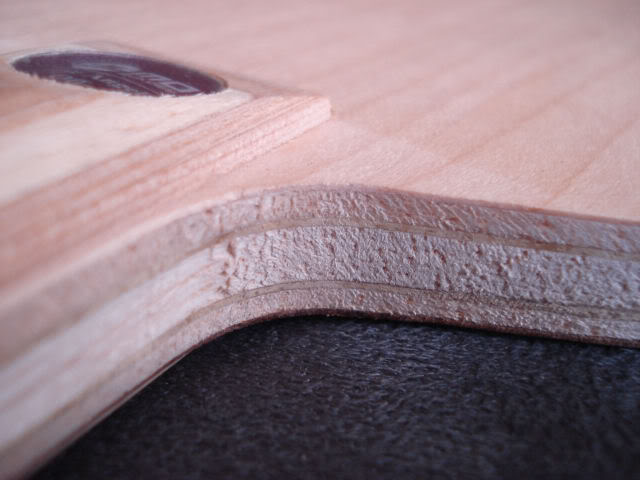 A bigger version of this blade is available for more defensive players. However, the larger tt-blade takes away a bit of speed. Due to its lightness, this tt-blade/table tennis blade can be used with quite thick rubbers and heavy China rubbers. Players have had good experiences with 1,5mm China rubbers and Tensor rubbers of up to 2,3mm thickness.
Spin Block ALL
Specifically for allrounders, who desire a tt-blade / table tennis blade with a harder backhand, some manufacturers have modified their model Spin Machine into the Spin Block. Considering the feedback of their affiliated players, they have replaced the Koto veneer of the backhand with a harder nut tree veneer.
Because of the more complex veneer, this model is faster and heavier than the model Spin Machine, but with approximately 60g in the standard size and 70gas defense table tennis blade, it is still very light!
This table tennis blade has a flatter bounce on the backhand than the "Spin Machine "because of the harder cover veneer. It also provides a player with better control.
This blade will therefore suit all players who play primarily block/counter/smash on the backhand. It also assists players with long pimples who want to preserve as much spin as possible with their backhand block.
A bigger version of this table-tennis-blade / tt-blade is available for more defensive players. However, the larger blade takes away a bit of speed.
Due to its lightness, this tt-blade is used with quite thick rubbers and heavy China rubbers. 1,5mm China rubbers and Tensor rubbers of up to 2,3mm a thickness have proven to work particularly well this blade.
Duality Allround
For players who want to have a table tennis blade with a slower backhand, it is possible now to develop the TT-blade Duality. It suits both players with long pimples and players who prefer more control over their backhand when playing block/counter/smash. On the forehand, this blade primarily supports spin of all types.
The blade comprises 7 veneer layers and is therefore relatively rigid. The core is made out of 4mm strong cotton plywood. The forehand and backhand are fitted with Balsa layers of different strengths contributing to the asymmetric layout of this tt-blade.
Additionally, we have used a Samba cover veneer on the forehand and a unique mahogany cover veneer on the backhand. As a result of this combination, a genuine combination blade with different forehand and backhand speeds is born. The complex structure of this tt-blade comes at the expense of a slightly higher weight of 85-90g.
This tt-blade / table tennis blade is somewhat simpler to play than the tt-blade "Die Angel" and is therefore particularly recommended to have just begun using pimples.
However, it still offers enough reserves for the more experienced pimples player. We recommend that this tt-Blade is used together with lighter rubbers or to use long pimples on the backhand due to the higher weight.
Spin attack OFF
It is the tt-blade for players who like to attack with topspin. Be it close to the table or at half distance, this blade wants to be played offensively. Because of the particular combination of materials, the "Spinattack" is relatively rigid but offers a soft impact behavior.
Therefore, this tt-blade / table-tennis-blade supports the topspin game but does not have the corresponding weaknesses in smashing standard blades of this type.
The core of this symmetrical 5 layer tt-blade consists of Balsa, which is combined with Abachi cover veneers. Despite the relatively soft veneers, the tt-blade is relatively rigid due to special gluing. The particular selection of material gives this blade weight of approximately 70g.
The "Spinattack" is particularly suited to topspin play of both the backhand and the forehand. Additionally, you can pay counter/smash shots with significant control. Because of its small weight, players are not restricted in their choice of rubber.
Abachi Core Table Tennis Blades