Being called "The Evergreen Tree" may sound odd to some, but for Jan Over Waldner it is the words of success.

Jan Ove Waldner has played table tennis since a very young age and has the success that he never could have dreamed of when he was young and played the sport for fun.
China has been table tennis's leading country for decades and ruled the scene until Jan Ove (some call him J-O) worked his way onto the table. He raised the barrier above China's best table tennis players heads and opened the door for other countries.
Players such as Jean Phillipe Gatien, Jorgen Perrson and Jean Michelle Saive have followed Jan Ove to the top, and sometimes challenged Jan Ove for his top position.
He has been called many things. "The Evergreen Tree" in China, The Mozart Of table tennis, Lao Wa In China, J-O to friends, and plain old Jan Ove to his family. Say any of those names near a Swede and their ears will perk and their attention will sharpen; they are all proud to be from the same country as J-O.
Jan Ove has been playing table tennis and be at the top for over 20 years; the only man to have a reign so long. Waldner does not give in to pressure, he simply becomes stronger. Take his World Championship results for example 2 silver medals from the Team Competition, with Team Sweden in 1983, 1985. 1987 brought him a silver medal in Singles and Team Competition.
1989 brought his first his 2 gold medals with 1 in Team Competition and 1 in Singles. In 1991, J-O lost to fellow Swede, Jorgen Perrson in the Gold Medal match in Singles Competition but captured gold in the Team Competitions.
His first bronze medal came in 1993 in Singles but again received a gold in Team Competitions. His past 2 golds have been in 1997 in Singles and 2000 In Team Competitions. One of the most impressive applications ever for a table tennis player.
The Olympic Games are no disappointment either. He made it to the final 8 in 1988, his first Olympics. He came back with a vengeance 4 years later, capturing a Gold Medal. He only saw 1 more medal in his lifetime, it was in 2000 when he won a silver medal but every Olympics has competed.
European Championships haven't been too shabby either. He has won many medals and also many disappointments have come.
The list goes on and on and on …
The Secrets Of Waldner's Game
Hi, friends! I have noticed some important things about Waldi, let me share it!
Waldner, hearing this name we get excited! Each and every Table-Tennis player is familiar with him. And if one isn't, he is not playing Table-Tennis at all. He is God of our game.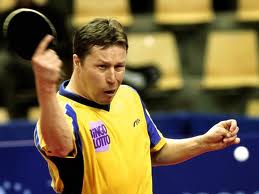 I use to watch videos of top players. Waldner is the most watched player. Whenever I watch him play, I get something to learn. He is like a holy book in a motion picture, whenever I read (or watch!), I get something new!
One thing I wish to clear. I know him some parts, but if you, friends know more, than share it. I will love to hear from you. The things which made him great, I believe are:
1. Calmness
Waldner is quite a calm player. This calmness gives him a big advantage in crucial situations. More often, we get chocked in such kind of situations, but Waldi, always cool!
2. Proper Movements
If we want to know about any player's level, we can decide it by watching his movements. As the level increases, the movement becomes proper. There will be a great decrease in an unnecessary rush for the ball. Waldner is a perfect example of it. No unnecessary movements, no rush for the ball, and balance all over.
3. Ball Feelings
Waldi is the most admired player for his Ball Feeling. We like to watch him because he has a superb feeling. His each and every ball is played with quite a perfection. He can smell the ball.
In the modern game, the attacking player gets more advantage. But, if he is not a good blocker, he can't be a great player. This man is also known for his fantastic blocking skills. Waldner can easily change the direction by his perfect blocking and make the opponent out from the rally by using his speed and spin.
5. Placements
Biggi! When we hear of ball-placement, we first think about both the corners. But, Waldner is the one, who do know to place the ball close to the net, and far from the net along with corners. This aspect, I think, is the biggest secret of his dominance. We watch many players only master the placement in corners and give less importance to closer and far placements.
I believe corner balls are easier to play than closer and far balls. Waldner, after looping, makes the opponent to come closer, then again far (smashes more, top-spins, too), then closer, and then, for the winner! And if the ball still is on the table, the rally continues. He is the player, who has the biggest use of drop shots.
The prime aim of writing about him is to have the light over his good things. I believe every player should learn from him. At least, watch him playing and the subconscious will grasp from his game. Have a great Watching Waldi!
Waldner's Masterclass
In the Nittaku Cup 2013, we saw the great J.O Waldner and Jorgen Persson return to the table. Waldner entered a full distance clash with Xu Hui from another top Swedish Club and put up a great fight with some controversy in the final moments with a camera flash disturbing the timing of a forehand flick.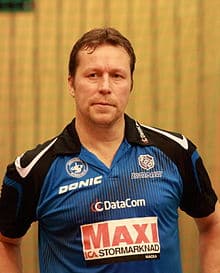 So here I'm going to examine what it is that allows Waldner to continue surprising us with a class of table tennis which really tangles with the best.
Now, one of the main strategies which Waldner has always excelled at is pushing players off the table, this is something which is clearly presented in this match. He pushes hard into the crossover and forces Xu to pivot and then plays his signature angled backhand block down the line.
What is special about this play? Well, he is pushing a wide gap between the two balls, the first play wide across the court and the second wide down the line. Waldner does this by adding sidespin to his backhand block which carries the ball wide off the table.
Achieving this requires great touch and a lot of practice, breaking the table when playing down the line is not easy! So he produces an extreme gap and we see even Xu Hui can't bridge that gap, and on the few occasions he does Waldner is ready on his forehand.
I think Waldner's backhand is definitely the weapon here, his forehand appears much less consistent and much weaker than we would have seen in the past and his forehand pivot is very slow, he gets caught out occasionally.
Of course, we also see Waldner throw in a couple of chop blocks which go down well. Chop blocking requires very precise timing and bat angle in order to get the ball on the table and ensure that it is heavy backspin.
In the end, it is Xu Hui who takes the match in the very final stages but I think it is important to note that Waldner has achieved elements of the game which are timeless regardless of his age.
Watching the game shows how important great control can be and a great analytical mind can make use of simple tactics in order to beat a faster and more agile opponent.