I often hear people say that if you are a penhold ping pong player, then you play very well with your forehand. This means you are good at playing the offensive game and not defensive.
This is far from the truth. We all know that penhold and shakehand are two common gripping methods in ping pong. Although each has its own advantages and disadvantages, in general, there is not much difference between them.
Nevertheless, penhold gripping methods seem to be only used by Asian players. We rarely see any Western players using the penhold grip.
Many penhold ping pong players have won a lot of world titles tournaments. Therefore, I can foresee the penhold grip will continue to be used by Asian players in the future.
As of now, I would like to share with you my all-time favorite top 5 penhold ping pong players.
1. Xu Xin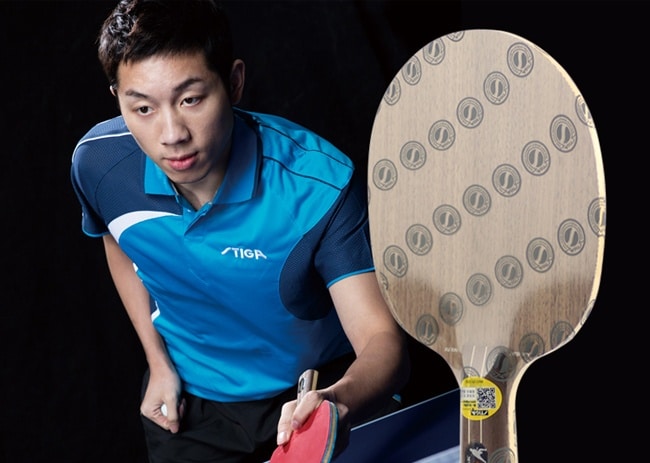 Xu Xin is a Chinese table tennis player born in Xuzhou, Jiangsu, on January 8, 1990.
He can be said to be the world's No. 1. in Doubles. His lefthand advantage, playing style, as well as his personal ability, deliver impressive results no matter who he is partnered with.
His magical shots like backhand catch, high ball, fast push, and twist, entertain audiences.
Xu Xin is said to be the best penhold ping pong player in the world.
How Xu Xin Start Playing Ping Pong
As a child, Xu Xin was picked by the teacher of Shaohua Street Elementary School in Xuzhou City. He was the fastest runner and had a fast response in games.
In fifth grade, Xu Xin went to Nanjing and was recommended to the Jiangsu team by the sports school. He then started practicing ping pong.
He has a long arm that helps him to generate a lot of spins when hitting the ball. He is strong to spin in mid-distance and has powerful forehand sidespin.
He does better in every game through his own reflections and correcting mistakes.
When he is playing in the game, you can see his strong psychological qualities. He never gives up easily even when trailing behind.
2. Wang Hao
Wang Hao was born in China in Changchun, Jilin Province on December 1, 1983. He began his professional training in table tennis in 1990.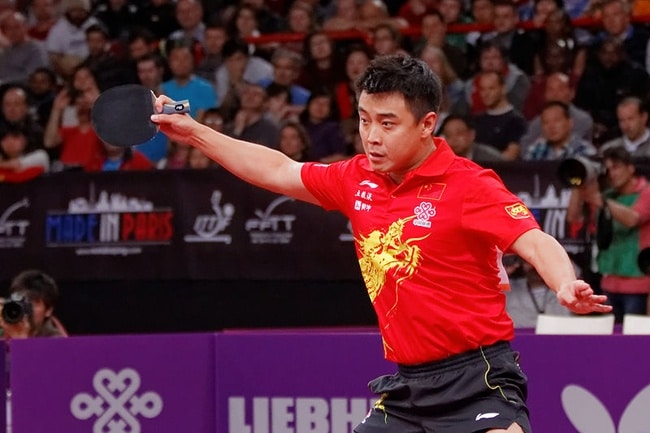 Photo source: Wikimedia
For Wang Hao, his technique characteristics are no longer the traditional Chinese penhold playing style. His penhold style is an advanced technique ahead of its time.
He can play against shakehand players and take advantage of his incredible backhand techniques. He often scores with a strong backhand arc.
Wang Hao's backhand exceeds the ordinary backhand shot of shakehand players, which is very incredible. His contribution to the new penhold playing techniques is very significant.
Wang Hao has participated 3 times in the Olympics Games. With the sport cycle of table tennis, playing 2 times in the Olympics is considered rare, but Wang Hao made it 3 times. This is a hard record to break.
His record also tied with another Chinese veteran player, Ma Lin, with 18 world champions and tied for the male table tennis player with the most world championships.
Wang Hao has won 18 world championships and made it to the Olympic singles finals 3 times. The team world competition was undefeated. Wang Hao set a brilliant record, though he failed to win the Olympic singles gold medal.
Wang Hao's biggest disadvantages are:
The backhand is too strong which leads to his stable play and makes lesser side attacks.
He has a very strong playing style. He sometimes has difficulty entering the tournament's state at the critical moment.
3. Ma Lin
Ma Lin, another Chinese table tennis penhold player who was born on February 19, 1980, in Shenhe District, Shenyang City, Liaoning Province.
The core of Ma Lin's technical skills is his forehand. In the more professional word, it is called return shot in close distance.
Ma Lin can be said to be the master of traditional Chinese penhold players since the beginning of the 21st century. His playing style is quite weird and the ball placement is tricky.
Watching Ma Lin playing is quite enjoyable. It seems like a ping pong ball is a toy in his hand, and he can control this toy whatever he wants.
He is especially good at playing the first three shots. Besides, he has close to perfect footwork where he can move very quickly and hit the ball to the edge where the opponent is not able to return.
Ma Lin won 4 World Cup championships and the gold medal in men's singles during the 2008 Beijing Olympics. He also won 18 world championship titles in table tennis.
He still maintains the highest level of play even with a couple of rules changes being made by ITTF, this shows that Ma Lin's techniques and strength are really incredible.
4. Liu Guo Liang
Liu Guo Liang, yet another Chinene table tennis player was born in Fengqiu County, Xinxiang City, Henan Province, on January 10, 1976. He has been the head coach of the Chinese table tennis team.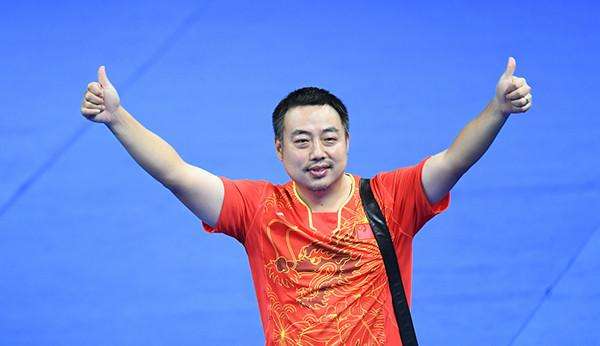 Liu Guo Liang is one of the few table tennis players who have won the Grand Slam. His career as a table tennis player was slightly short because of a series of ITTF rules reforms, but his achievements are obvious to all.
Doping Scandal
In the 1999 World Table Tennis Championships which was held in Eindhoven, Liu Guo Liang defeated teammate Ma Lin in the final and once again stood on the highest championship podium.
However, accompanying the joyful moment was the "doping" scandal. Liu Guo Liang was found to have exceeded the exogenous origin of epitestosterone. Nonetheless, Liu was found innocent after the investigation and there was no doping offense committed.
In 2002, after the ITTF changed the rules and announced the new ping pong ball to have a size of 40mm instead of 38mm, Liu Guo Liang found he was no longer suitable to play in this arena, so he ended his career as a table tennis player.
5. Ryu Seung Min
He is the only penhold player is this top 5 list who is not from China. Ryu Seung Min was born on August 5, 1982, in Seoul, South Korea.
He started playing table tennis at the age of 9 and grip the racket in penhold with his right hand. He is a traditional single-handed player in Korea.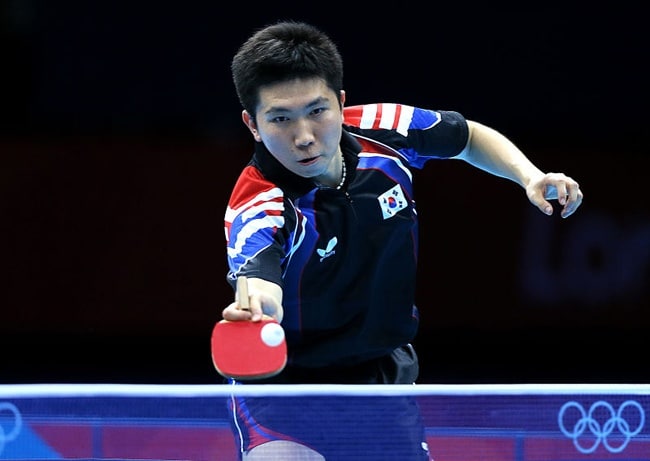 Photo source: Wikimedia
At the 2004 Athens Olympic, he defeated Chinese player Wang Hao in the final and won the men's singles gold medal for South Korea.
This was a very valuable match for him as well as other Chinese players. From a spiritual level, his desperate spirit completely suppressed every opponent. From the propaganda point of view, his Olympic gold medal broke the myth of invincible Chinese table tennis and expanded the influence of table tennis.
He is a player with strength and explosiveness as his specialty. As an excellent representative of the Korean single-sided penhold player, his footwork and running ability are quite powerful.
Korean style single-sided play relies heavily on the forehand arc ball attack and requires a lot of running. He has excellent physical fitness, very fast start-up speed, and superb footwork. His forehand arc ball is extremely lethal which is his killing weapon.
Read also:
Table table quotes by world's famous players