Last Updated on
If you are looking for speed, This Tenergy 80 will definitely give you a lot of speed. It offers perfect balance between speed and spin at the finest level of the Tenergy Series.
What we discover was that the performance of this rubber is closer to the Tenergy 64 model. But it can be even exact to describe it as the combination of the best characteristics of Tenergy 05 and Tenergy 64.
Product Information
Type: Offensive
Hardness: Medium
Regardless of play style, Tenergy 80 features all round topspin for both attack and counter attack styles. It can perform well in top spin rallies at mid-distance, and also counter attacking play close to the table.
Pimples code 180 are developed to enhance balance play style.
Details
Perfect balance between speed and spin.
Even faster than Tenergy 05 and offering the same speed as Tenergy 25.
Tenergy 80 features all round topspin for both attack and counter attack styles.
Many professional players have already migrated to Tenergy 80.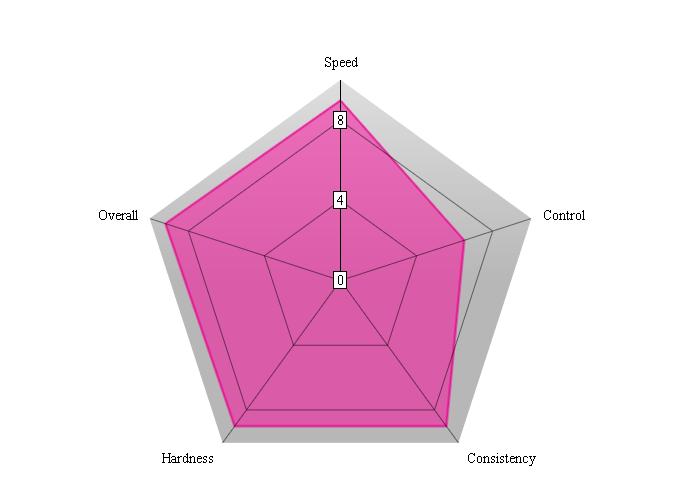 Butterfly Tenergy 80 Performance
Note: The graph reflects real users experience which may not be identical to information form the manufacturer.
Review of Butterfly Tenergy 80
This is the most powerful all round table tennis rubber from Butterfly ever. It offers you extremely fast speed (even faster than Tenergy 05) while still maintains very decent control and good feeling. It is also perfect for smash since you can generate monstrous power with comparatively less effort (It sounds like thunder when you smash).
Regarding spin, It is very easy to generate incredibly powerful loop, side spin, and backspin. However, its throw angle is naturally a bit high for the loop but this should be no problem once you get used to it.
Regarding defense, it features very decent blocking performance for skill players although it seems to be a bit difficult for begin – intermediate players since the rubber is pretty sensitive. One only drawback is its high price (80 – USD$100). Butterfly Tenergy 80 is recommended for high – professional level players with a decent budget.
My Experience With The Rubber
I use Tenergy 80 red rubber that is of 2.1mm for the thickness, Its weigh about 68 gram when it is uncut and "only" 44 gram after cut in Butterfly standard size. Compared to the black Tenergy 05 that I have, this rubber is a bit softer, but the hardness of the sponge is quite identical.
My first impression of the Tenergy 80 is that the surface is close to the Tenergy 05. The feel of getting more speed is only due to the fact that the somewhat more flexible pimples structure allows the sponge to get through better in fast-spin balls.
With soft topspins and playing over the table, the only difference of this rubber with the Tenergy 05 is that the spin potential is marginally lower. Nonetheless, it offers me with great strength compared to the Tenergy 05 or Tenergy 64. It also provides me with the most balance when performing the active block and the counter shot behavior.
Preliminary conclusion:
The Tenergy 80 is not an all-round rubber. If you don't like the Tenergy 05 nor Tenergy 64, then you will probably don't like the T80 as well. If you are looking for a Tenergy 05 with a softer top rubber, you will find it in T80. The term "Allround Tenergy" is probably the best, because it combines the strengths of T05 and T64 which is more suitable for you. Nonetheless, you will need to sacrifice a little bit where you will experience less spins on T05 or less bounce on T64.
Pros:
This is the rubber of Tenergy series that built with good balance of speed, power, spin, and control.
It is very good in attacking short balls.
You can perform well with the low push and keeping the ball short.
Cons:
This rubber is not perform well if you are trying out looping.
The price can be expensive. Most of the people just think that the rubber is not worth the price.
Recommended Table Tennis Blades for Butterfly Tenergy 80
Offensive: Butterfly Jun Mizutani, Butterfly Michael Maze, Butterfly Sardius, Nittaku Tenor
Super Offensive: Butterfly Boll Tri Carbon
Overall Rating: 4.8/5