When the first season of Ping Pong the Animation began, many thought that the entire animation was all about ping pong. However, this anime is more about life than a ping-pong game.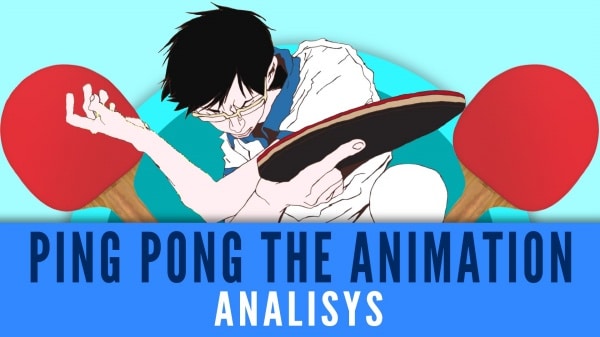 Aired in 2014, the Manga has so far attracted a large audience. Though different people have different preferences in anime, this one is unique and offers great life lessons. Let's see more about this best-selling Manga.
The Plot
Ping Pong the Animation is an anime written by Taiyō Matsumoto. It centers on 2 high school friends, smile and Peco whose friendship began from childhood.
They are talented in table tennis and play for Katase High School table tennis club. Peco is demoralized after being beaten by 'China' a Chinese student. Such an experience deters him from practicing.
His friend, Smile does not want to win against his friend, Peco due to his personality. However, the coach recognizes Smile's potential and makes an effort to motivate him towards overcoming his backward personality.
The friends spend most of their time playing table tennis with so much zeal and dedication. Some of the players give up on the sport and get back to it again.
What the Anime is Really About
Though the characters play table tennis, Ping Pong the Animation is not all about playing table tennis. It is about real life. From the characters, we can see that sometimes challenges demoralize them. At other times, they leave the game and come back again.
There are great lessons to be learned from this anime. Life has its own ups and downs that make us want to withdraw. However, we overcome and get back to the track again.
The anime is not just something to offer fun to high school students. It tells an emotional story of students attracted to a serious table tennis sport. Some students pursue it because they are talented.
Others become talented because they play. Some others, though have the talent, they are not dedicated. Other groups of players have to recognize that heart alone is not all that they need to accomplish their dreams.
Ping Pong the Animation shows that a great story can be taken from any genre. The characterization in this manga is wonderfully done to strengthen the story. The writer is famous for his unique art style.
However, the character sketching is not something pleasing. As well, the style of animation is unrestrained such that sometimes, the borders and lines begin to dissolve.
My View
The one that I love the most about this anime is the midnight competition session. And the other one is the inexplicable OP that looks like an explosion.
This anime is featured with brightly colored, special drawing and dynamic lines. The most amazing thing is that it uses a short space to portray sports life connected by talent. Although the protagonists were only high school students in the past, they were deeply touched by their precociousness.
Anime Drawing Style
Let's take a look at the strange style of drawing. Matsumoto's anime creations are mainly on young comics. His works have a clear visual style. This highly individual style can directly give people a sense of arrogance and detachment from all constraints.
Character style design is mainly based on line-sketching. Although the performance of the light and dark aspects is very small, it does not detract from the quality of the work. But instead, it gives a bright and simple personality with a unique visual impact. For block segmentation, it reflects different local details. The depicting of dynamic scenes is also very different and sensational.
Whats Touching Me
I think that the most touching point of this anime is not the achievement that these players have achieved in the end. It is not the effort or the talent will make you succeed in the game. It is the 99% practice + 1% talent = success.
The session where really touch the audiences from beginning to end is what they do for their own preferences or for their fate. They struggle, give up, rise, cry, hurt, and practice hard. They fight really hard for every game. They are committed to every swing that they make. These are more meaningful than success and winning the game.
Achievement
If you want to achieve good results in a certain field, talent (ability), diligence (effort), enthusiasm (interest) are indispensable.
Generally speaking, talent is a stepping stone to enter into a certain field. Diligence is a necessary condition for continuous improvement. Love can be both the starting point of life and the spiritual pillar that helps you survive the most difficult stage of your career. Specific to the Ping Pong The Animation, these three parts also determine the fate of each of them.
Summary
This is not a sports animation in the traditional sense. The traditional sports animation is the professional play of popular science sports. They will focus on how to achieve victory through cooperation and tactics, and then reflect various kinds of situations and stories.
Do you see any technical terms in Ping Pong the Animation? Almost none. What is the performance of the game in the play? Almost all the scenes are just simply going through without much emphasis on the real table tennis skill.
Thus, I think this anime is more focus on the characters' performance and ignore the reality of the sport.
Recommendation
You can make your table tennis playing experience a story. Also, forget about the invisible borders and lines as well as the unpleasant character sketches in this anime.
Ping Pong the Animation is a manga worthy of watching. The story has great lessons to learn about life. From a scale of 1 to 10, I can rate this anime 9 out 10.
It is a manga that is exceptionally written, directed and produced. It displays competition psychology and is realistic about dreams, talent, and victory.
It perfectly focuses on drive and hard work rather than just lazy dreams. The sound is high and the dialogue is natural. It is a must watch anime for table tennis fans and players.
Ping Pong The Animation Videos