Let's face it, we all like choices – in life and in our games. For those with a love of games, a table tennis conversion top could be just the ticket to enjoy several types of recreation. The typical ping pong table is big, so big in fact that is often can be folded and stored to make it more practical for household use.
And often people that have a game room that would accommodate a ping pong table, like to have a billiards or pool table as well. That type of room just screams for family fun! With the use of a table tennis table top you can enjoy both games in half the space.
A table tennis table conversion top is a table that can be placed on top of a snooker or pool table. The beauty of a portable table tennis top is that it can be placed on most any flat surface that can support it. So, if you don't have a pool table, but have a large table, you can easily convert it into a ping pong table and begin a game of volleying that little ball in just a short time.
If you do not have enough space at home and you have a snooker or a pool table then a ping pong conversion top will be best for you.
These table tennis table tops are very easy to store and very suitable for snooker or pool tables.
If you are planning to put it on top of your pool table there is little need to worry about scratches since most table tennis conversion tops come with a felt or foam backing that will protect the underlying surface from scratching.
These tops can be used inside the home and outside, which is great in the right climate. The ones made for outdoor use usually have a protective coating that will protect it from the elements and from fading in the sun. However, just remember that anything that is placed outside will show wear and tear faster than items kept indoors. For this purpose, some users recommend that when it is possible you should keep your table top tables indoor unless you are actually using it outside.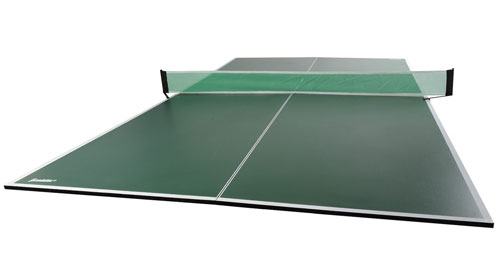 Table tennis conversion tops are recommended mostly for recreational use and not for professional use. Be aware of the dimension of the top and the height of the surface that you are placing it on. Regulation ping pong tables are often a different size.
If you were planning to become the next reigning champion at a national ping pong tournament, you will want to hone your skill on a regulation table. However, by using the conversion top, you could experiment with the game and decide if you love playing enough to turn it into your lifelong career.
The best time to buy a table top tennis set is during the big winter sales when you can often get thirty to forty per cent savings on these big ticket items.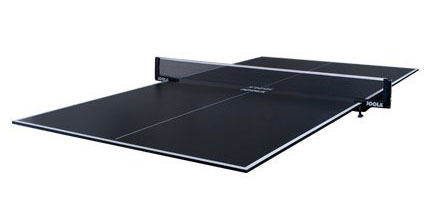 Conclusion
So the bottom line is that your choice of table depends on so many factors, you can buy mini or compact table tennis tables, a table tennis conversion top, indoor or outdoor table.
To avoid making mistakes, follow my advice and I am very sure you will definitely choose the best table tennis table that is right for you.
Read for more references on related topics:
* Get A Ping Pong Conversion Top For You Billiards Table
* Various Table Tennis Conversion Tops In The Market
* Portable and Foldable Table Tennis Conversion Top