The Killerspin JET 800 is a great all around paddle you can have if you are an offensive player. It tends to perform very well in a tournament.
Killerspin company logo is look like Ferrari which seem like a little fancy for me. But the paddles that manufactured by this company is always of quality one.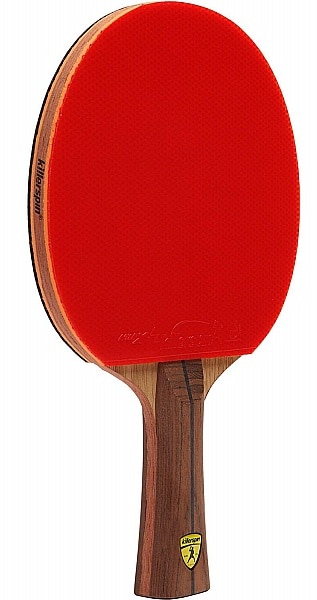 Construction
The blade of JET 800 is built with 7-Ply wood: 2 carbon fiber and 5 composite wood. All stacked together to make this beautiful paddle. The paddle is having a nice large sweet spot. It features two 2.0mm Nitrx-4Z rubber which is ITTF approved. Thus, there is no problem for you to use this paddle to play in any official tournament.
Specs:
Ply: 7-plies (2 Carbon + 5 Wood)
Rubber: Nitrx-4z 2.1mm
Handle Style: Flared
Dimensions: 6″ x 6 1/8″
ITTF Approved
Rating:
Speed: 9.5
Spin: 9.0
Control: 8.0
Weight: 190g
First Time Holding Experience
When I first hold the paddle in my hand, I can feel it is quite heavy as the weight is approximately 190 gram. It is heavier than my Stiga Apex by a noticeable amount. When you first take off the cover protector from the paddle, you will have a very sticky feel when you touch on the rubber. The thickness of the racket is look like adding two more layers than the regular racket.
How good is this Killerspin JET 800 paddle
I have tested the paddle for a couple of practices and I can feel it is a very powerful paddle that can give me a lot of spin with very good control. For some players who are not using such paddle before, they may need to take some time to get used to it.
The bounce is great and the paddle can gives you a lot of balance. It can give you a lot of forces to your opponent. In addition, it can provides you with great responsibility of control. You may found it is actually pretty hard to learn how to control.
Drawback
If you are a defensive player, this paddle may not suit your style well as it may give you a bunch of trouble to keep the ball on the table. You will need to stand closer to the table in order to make sure that you are not missing any of your shot.
It is quite a pricey paddle and you may want to take a good care of it by insert the paddle into a case when not in use. This can also prevent the rubber to get dirty real quick.
I must say this Killerspin JET 800 paddle can provide you with best value for the money that you spent. If you are looking for a pre-assembled ping pong paddle for intermediate level of play, then this is the one that you can take into consideration. It is one of the good performance paddles in their line up.
 Killerspin JET 800 vs 

Stiga Pro Carbon
Both rackets are well fit for offensive players. If you wish to have more control when playing the game, you should choose the JET 800. However, If you like to play attacking game and didn't care much about control, then you may consider the Stiga Pro Carbon. The price for Stiga Pro Carbon is about $72.  You can read more about the racket here.
You can buy this paddle for best price from Megaspin.
Related post:
Killerspin Jet 600 Ping Pong Bat Review