Harvil I Indoor Table is a ping pong table suitable for dens, offices or game rooms. Its sturdy construction, playability, and versatility make it a game table to consider. It is also a folding table you can buy for your family to have fun.
Despite being a middle range table, it has exceptional selling features and meets many people's expectations. Below is a detailed review of the table.
Features:
5/8 inches (15mm) playing surface.
Powder-coated steel frame.
Playback mode.
Net and metal posts come with the table.
Locking wheels.
Folding features.
Weight: 147.67 lbs (67 kg)
Dimension:
Assembled dimensions: 108 L x 60 W x 30 H inches
Storage dimensions: 61.5 L x 23.6 W x 63.5 H inches
Assembly
You can assemble alone in less than an hour. If you want to make it even faster, you can have 2 persons to assemble the table. If you face a problem when you assemble the table, you can refer to the video as we prepare for you at the bottom of this post.
Playing Surface
The playing surface is 16mm thick. Such thickness will not give you a quality bounce but it is good enough for recreational play.
The MDF top provides consistent ball bounces. Besides a sturdy construction, the aluminum coated top surface is protected from dents especially when shifting the table.
Though it is not fit for professional matches, the table's top has a powder-coated steel frame that enhances its durability.
Though it is not a competition table, the thickness is essential in having a decent ball bounce. However, the design of Harvil I, Indoor table is not for competition. It is valuable for training or having fun. In this case, the 16mm surface works fine.
Table Size
It measures 61.5 inches in length, 23.6 inches in width and 63.5 inches in height. This dimension is vital as it not only reduces storage space but also the table occupies less area when it is set up. It has an attractive blue color that makes it beautiful.
Net and Post
When you purchase this table, it will come with a net and 2 metal posts. The black net with the white strip is quite simple for you to install on the table.
However, The net can be quite cheap because it only held by two clips on both ends. When playing ping pong and when the ball hit the net, it keeps moving around.
If you need to get a better quality net, you may want to consider buying it separately.
Table Legs
The legs that available in this table are slimmer compared to other higher price table models which have larger legs.
You will find 8 sets of bolt, nut, and washers in the box for you to assemble the legs to the table. For each leg, you will need 2 bolts. It is rather simple and easy for you to put them together.
The legs can be adjusted to shield your floor from scratches. They will stand independently once the legs are complete setup.
Foldable
The Harvil I, Indoor table is appropriate for a single, double or family game. For skilled players, it is suitable for training because of its playing back mode where you can practice alone with the table. The folding table is easy to store and transport.
it is a two piece table easy to fold and store. It does not consume extra space when you fold it up for storage.
Caster Wheels
The table is featured with easy locking mechanism. With 8 locking wheels, 4 pairs on each side of the table, it is rather portable. The locking wheels are good in preventing the 2 table halves from separating.
You do not need a permanent setup as you can move the table around easily and placed anywhere you want or move for storage. Also, it is light and can be folded and moved around.
Accessories
When you purchase this table, you get almost all the accessories required. The package includes a white strip, 2 metal posts, and black net. The balls and rackets are purchased separately. However, they are available and cheap.
A Lightweight Table
It weighs just 147 pounds. With such weight, it makes the job for you to move the table for storage become simple. Though its lightweight is prone to warping during play, the table still meets its expectations of instilling fun to families.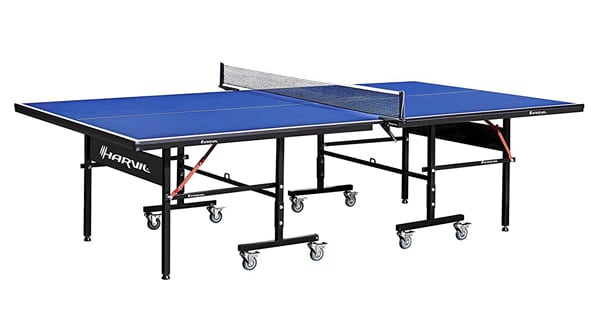 Pros:
The table gives you good value for the money you spent on it.
It is a lightweight table which is easy for transportation.
You can store the table easily and conveniently.
Cons:
The playing surface is 16mm thin. It offers a slow play and bounce than standard tables that measure at least 19mm.
The net is not of good quality.
Paddle and ball need to buy separately.
Final Decision
Harvil I Indoor Table Tennis Table is one of the most convenient, affordable, portable and storable tables in the market that you can have. It is a perfect table for indoor playing. You can get it for your kids or the entire family to have fun.
If you a skilled player, it will also help you in training where the table is featured with playback mode. Though it is light and its top is thin, reviews from users show that it is a befitting table easy to assemble and play.
The selling price for this table is about $350. For this price, it is rather affordable for most of the people. This can be a good buy as the quality of the table that you get will well-worth for the price that you pay for.
You can get this table and place in your house or in your office. You can then start to play ping pong with your family members or colleagues and for sure you will have a lot of fun with the availability of this table in place.
The table is available at Amazon
, you can get from there if you wish to buy this table.
If you have no idea on how to assemble the table, you can refer to the Youtube video as below to assist you.
Related post: