Ping pong tables are an excellent recreation solution for anyone suffering from lack of space due to the simple fact that they can fold up for easy storage. Ping pong, or table tennis, is generally scored and has a result once a player reaches 11 points. The game can be played by two players or four players, depending on the size of your ping pong table.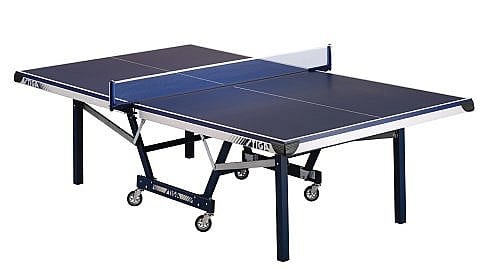 Click for lot of table tennis table choices
Ping pong tables are relatively cheap compared to pool tables. You can find a quality pool table for two or four players that will easily fold for under $500. Ping pong paddles and ping pong balls come in accessory packs that can be purchased online for about 20$ a set.
So, for under 600$, you have a home gaming system that will store nicely and provide for hours of entertainment. Not bad! Plus, table tennis is now an Olympic sport – you may become a gold medalist someday with practice!
DIY Table
A DIY enthusiast may look for ways to make cheap ping pong tables as opposed to buying it new. According to some online manuals, all you need is a large piece of plywood, a couple cans of green paint, white electrical tape, some c-clamps, a paintbrush, and a ping pong kit.
Simply paint the board, measure and tape the boundary lines, clamp on the net and place it on a table, set of sawhorses, or as one suggests a broken air hockey table. Um…ok, that's one way to do it.
This would be a great project to try in order to start playing ping pong and find out if you like it, have the time for it, or have the room available to play. But as you become more fond of the game, you may be ready to find the next best type of cheap ping pong tables available to you.
You could look on one of the online classifieds for a used table; however, there is usually a question of shipping as the item is fairly large. When compared to buying one of the ping pong table conversion tops new or used, you may find that this option would be just as cost effective.
Another consideration besides price when you are looking for cheap ping pong tables is the question of quality. All things are not created equal and you may come to find that how your playing ball reacts to different surfaces and thicknesses will affect the outcome of your game. Instead of blaming the ball for that bad shot, you may be able to blame the surface on which you are playing.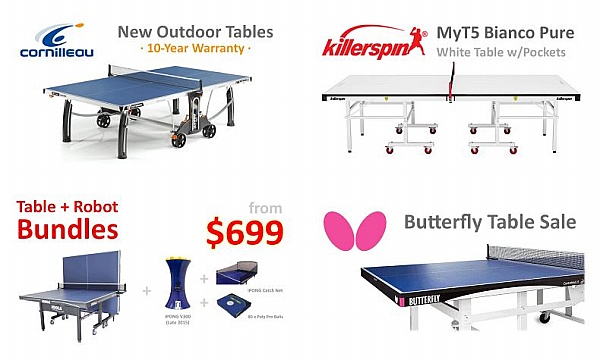 Table tennis rules state that a ping pong ball should bounce up to 23 cm when dropped from a height of 30 cm. Depending on the thickness or material with which the top is constructed, that bounce height may vary on your ping pong table.
Getting an affordable ping pong tables may be a good entry point to learning the game and table tennis conversion tops are certainly an option for those developing their skills. The more you play, the more you will be able to maneuver the ball so that it will land where you want it to, with the amount of speed that you wish.
The more skills you have, the more fun that will follow. Whether on a green painted board, or a pro table, ping pong on a cheap ping pong table is fun!