Maybe you enjoy listening to music before playing or during training, but did you know there are scientific benefits to it? Or, as we'll find out in part 2 of this article, the wrong music can actually have a detrimental impact!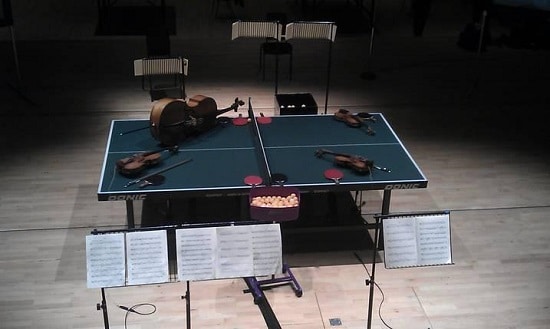 But your back might hurt from carrying a cello while you play!
Photo source: Ping! Music vs Table Tennis Facebook page
#5 Train harder without feeling like you are (or at least enjoy it more)
As told by a 2008 article by Costas Karageorghis and David-Lee Priest, a study has shown that music lowered the perceived exertion of moderate intensity treadmill running by 10%. This result was not replicated during high intensity running, but test subjects still reported an improved experience, suggesting that hard training feels more fun when listening to music.
#4 Raise your heartrate
In this post, I've already talked about how having an elevated heartrate can make time slow down. According to this article about a study done at the Pavia University in Italy, the volume and tempo of music can help to raise your heartrate, which is great for preparing to play, but it can also help bring it down, which would come in handy for times when you're feeling too hyped up or anxious, and need to calm yourself down a bit.
#3 Learn new skills faster
The same 2008 article mentioned above contends that the rhythm of music provides cues to improve timing of key aspects of new skills. Well chosen music with lyrics that reinforce essential aspects of a new skill is also thought to be beneficial, as is the fun often added to a learning environment by music, and with it more intrinsic motivation to master new skills.
#2 Move with more efficiency
Listening to music while training has been shown to increase movement efficiency in rhythmic sports by allowing athletes to sync their movements with the music. In one study, participants who cycled in time to music found that they required 7% less oxygen to do the same work as compared to cycling with background (asynchronous) music. Luckily for us, table tennis is one of the most rhythmic sports in existence!
#1 Get in "the zone"
"The zone" is the holy grail of sport, where athletes enter an altered state of awareness where the mind and body operate automatically with little conscious effort. In a 1998 study co-conducted by Dr. Karageorghis of Brunel University, 1,231 dance students were surveyed about their ability to get in the zone, or attain "flow" as it is also known, while listening to music. There were high correlations between ratings of the music and ratings of "flow". "We concluded that music may have a considerable effect on enjoyment levels during exercise and selecting the 'right' music may be a key factor…" Karageorghis wrote.