The STIGA table tennis rackets are a great brand name in the table tennis community. This STIGA Classic Table Tennis Set is very well made and also durable in nature. They come in several colors and styles to suit the needs of the avid gamer. It is not a surprise that a lot of ping pong enthusiasts are so inclined to have this brand of equipment and accessories for playing this game. So if you are looking for your ping pong accessories and equipment, a great option is to look for STIGA table tennis rackets or paddles.
You can choose either 4-Player set or 2-Player set.
4-Player set is manned for double game and 2-Player is manned for single game.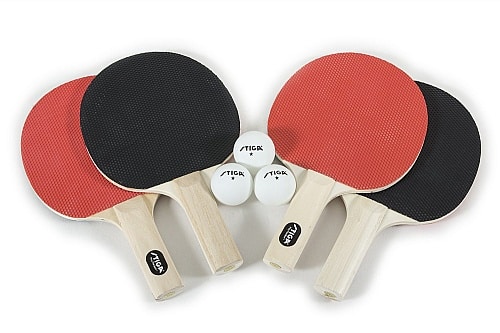 Specification for STIGA Classic 4-Player Table Tennis Set:
4 x hardbat rackets
3 x 1-star white balls
Surface: pips out
Handle: straight
Blade: 5-ply
Paddles are made of hardbat-style rackets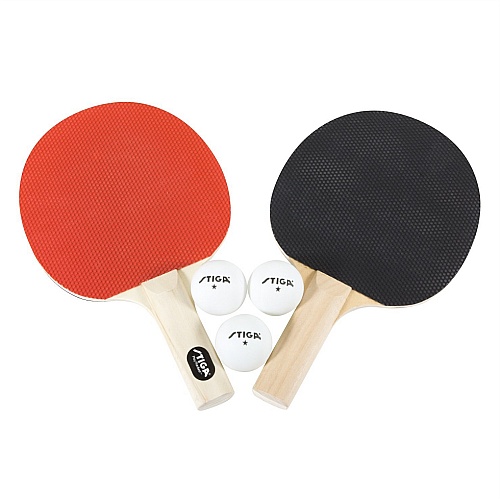 Specification for STIGA Classic 2-Player Table Tennis Set:
2 x hardbat rackets
3 x 1-star white balls
Surface: pips out
Rackets: straight handle
Blade: 5-ply
Performance Ratings – Speed: 24, Spin: 28, Control: 48
STIGA 1-star balls are regulation size (40mm)
Recreational-quality set
USATT Approved
You can play the game of ping pong with this STIGA 2-Player Classic table tennis set. It can be perfect equipment for recreational players to enjoy playing and have some sport exercise to stay healthy.
Progress to Olympic
When it comes to playing ping pong, some people take it very seriously and there are even Olympic sports that in which participants play this game. When playing the game, it is of the utmost importance to have a paddle that suits the needs of the player.
These STIGA table tennis rackets are made from the best quality wood, and use the highest quality rubber to ensure that they will last for a long time. Some of them are even recommended for tournament play, but they are also sold for the rookie players as well.
These rackets can be purchased alone or in sets and can also come with a great sleek looking cover to complete the look. Depending on the racket, they range in price from around ten dollars to in the upper hundred dollars. Professional ping pong players insist on a great well handling racket to complete any competition.
Great Choice For Starters
Overall, the STIGA table tennis rackets are a great addition to any table and can be used by the most novice player, to the highest competitors. Having a table tennis table in the home is a wonderful way to increase your skills. If competing professionally is a goal, having an in home table with the proper rackets is a must.
Some would not look for a STIGA table tennis rackets because of the price but if you intend ion having it for the long haul, then you should consider otherwise. This can be a fun game of skill played in large groups, or just family game night. No matter what the skill level, its fun for everyone involved and does not take much effort to learn to play this simple and easy yet fun and entertaining game. Whether daily, weekly, or monthly, this is a game enjoyed by most who have tried it. And the obvious choice if you want a long lasting investment on your table tennis equipment, like pads and ping pong racquets, STIGA table tennis rackets is a great choice.